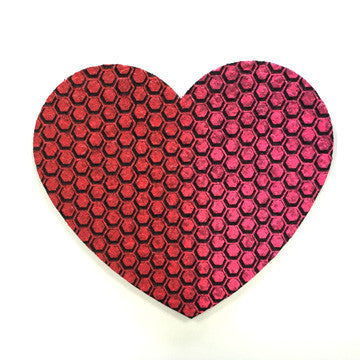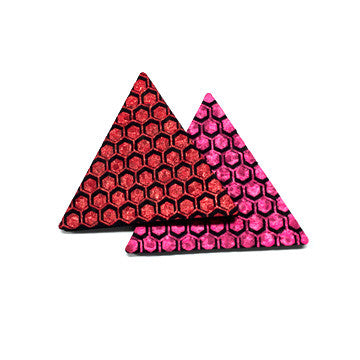 $ 7.00
$ 0.00
Honey Heart
The Honey Heart 

deepens your bond with other positive beings. It will also increase your sense of caring and compassion, your feelings of self-love, altruism, generosity, kindness, and respect.  8" heart shape w/ "LOVE faded" screen print.  These all come with a FREE 2.5" random red or pink triangle! Happy V-Day . . .  
100% made in the USA & ships from New Jersey.
100% upcycled rubber scrap material
Tough, resilient and recyclable
Closed-cell neoprene naturally repels moisture
Self-extinguishing & heat-resistant
Cleans easily with soapy water

Not a mousepad
Protect your investments with moodmats upycled rubber coasters! Originally designed in 2009 with scraps from old wetsuits and other discarded neoprene, moodmats are still made in New Jersey.  We are using 98% upcycled, reused scrap foam rubber that has been personally collected from companies and individuals alike. We take material that would otherwise end up in a landfill and turn it into a protective sheet of goodness. Our rubber is tough and resilient. We use all sorts of closed cell foam in our formula.  Our moodmats are self-extinguishing and easy to clean with soapy water...let'em dry, and they're like brand new again. Our mats are useful at home as coasters, trivets for hot pots and pans at the table on camping trips . . . at the beach or favorite event! Enjoy . . . piece peace.